Alice Olins and Phanella Mayall Fine are the founders of The Step Up Club, a creative platform which focuses on career women and their position in today's work environment. Their aim is to empower women with their events, online content and newsletters, whilst giving tips and valuable advice on career aspirations.
Both Alice and Phanella have incredible inspiring career journeys and are a true example of women empowerment on the work force. Alice has worked for many established magazines including The Times, Marie Claire and she is also a contributing editor for Red magazine. Phanella is an executive coach and development consultant who coaches professionals for a variety of clients on topics such as leadership, self-presentation, maternity and return to work.
MERCER7 had the opportunity to meet them for a mini photoshoot and ask a few questions about their dream collaborations, career highlights and lifestyle.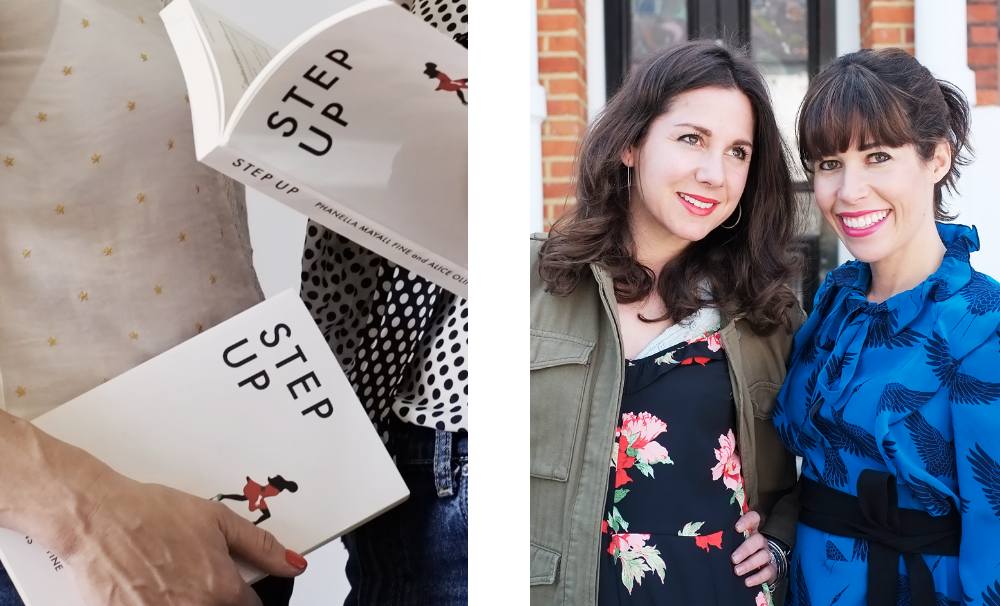 TELL US ABOUT YOURSELVES AND YOUR WORK BEFORE LAUNCHING THE STEP UP CLUB?
ALICE: Before I launched Step Up with Phanella, I was – and still am – a fashion journalist. I cut my teeth at The Times, where I worked for ten incredible years. I still feel incredibly fortunate to have been able to learn my trade, build lasting team working skills and understand how to channel the buzz of a breaking story into great written content at such a prestigious and pioneering publication. After The Times, I went on to become the Fashion Features Director at British Marie Claire, where I also helped launched its inaugural Marie Claire Runway biannual, and have recently finished an amazing stint at Red, where I am still a Contributing Editor. I also write across all women's issues, health, beauty and interiors. For me, writing is my creative outlet – a medium where I can express myself most fully and explore subjects and meet people who would otherwise have remained out of reach.
PHANELLA: As far back as I can remember, I had wanted to be a lawyer. So when I finished Oxford, law school followed by a training contract at a big corporate law firm was the natural next step. I worked as a finance lawyer at Slaughter and May and Linklaters in London and Davis Polk in New York before realising I wanted to move closer to the deals on which we were advising. JPMorgan offered me a job as a portfolio manager on their European equity funds and sponsored me through my CFA (Chartered Financial Analyst qualification). It was exciting, varied and intellectually challenging – everything I had been looking for. But when I had my first child (I now have 3), I realised I wanted more flexibility. I requalified with a Masters in Organisational Behaviour (Career Management and Counselling) and, thanks to my background, started coaching training for banks and law firms around the world. I have always been fascinated by diversity at work and this became the focus of both my postgrad research and corporate work. Like Alice, I still split my time between this 'other role' and Step Up although as we do more and more Step Up work with brands and corporates who are trying to engage and retain their staff, the two increasingly merge together.

PUBLISHING A BOOK IS SUCH A MASSIVE ACHIEVEMENT! WHAT INSPIRED YOU TO WRITE A BOOK?
We've known each other since our early twenties, just when our respective careers were starting to form. We would often see each other at parties and always end up talking about our shared passion: feminism and the role of women at work. Increasingly we saw that our peers and Phanella's clients were looking for support, advice and inspiration in their careers that they just weren't finding elsewhere and we decided to do something about it. Step Up was born with our first event 18 months ago attended by 70 women made up of friends, contacts and contacts of friends and out of that has come everything else.
WE ABSOLUTELY LOVE THE IDEA OF '10 MINUTES A DAY'. PLEASE TELL US MORE ABOUT IT AND HOW YOU CAME UP WITH THE CONCEPT?
The high intensity workouts are central to the book. We're all time poor and when you start piling on the additional work – endless networking drinks, daily self-promotion – it can feel daunting at best. Yet we know that if you just spend a small amount of time – 10 minutes each day – on career related behaviours, as opposed to your day to day tasks, the benefits to your career will be exponential. We wanted to make these seemingly impossible tasks achievable by making the bite-sized, showing women they can work their career even if they can only find 10 minutes a day. The workouts are practical but enjoyable too and each one has been chosen to be as effective as possible in that short space of time.
IS THERE ANYONE WHO HAS BEEN A COACH OR A MENTOR TO YOU? IF SO, HOW HAVE THEY HELPED YOU AND INFLUENCED YOUR CAREER PATH?
We both have quite a few mentors from our own industries, families and even amongst our friends. One who stands out for us both is Melissa Hemsley who has been so generous with her time and advice since we met her to interview her for our book. She has advised us on things from events to social media strategy, headlined our International Women's Day lunch and continues to inspire us with her warmth and genuine interest in others.
WHAT HAS BEEN THE HIGHLIGHT OF YOUR CAREER TO DATE?
PHANELLA: Writing Step Up. Publishing a book was always on my bucket list but wasn't something I necessarily thought I could achieve. The moment I first held our book in our hands will be pretty hard to top.
ALICE: In truth, I feel like the best is yet to come. Phanella and I are in building mode, we are brimming with ideas and enthusiasm, so I'd say, watch this space. On the fashion side of things, being at a handful of Alexander McQueen shows when Lee was still alive, were breathtaking in their creative completeness – and sitting down for tea with Dontella Versace has to be a huge celeb tick too.
WHAT WOULD BE YOUR DREAM COLLABORATION?
PHANELLA: We love collaborating with strong female led brands or brands that support and positively inspire women in their careers – luckily there are so many out there and we've been lucky enough to already work with quite a few. I am a little obsessed with J.Crew so to collaborate with them in some way would be pretty high on my list.
ALICE: I definitely wouldn't say no to J.Crew, I love Jenna Lyons! As well as her, I have my sights on the old British favourite, Smythson. I am a write-it-down kind of woman, and have used their diaries ever since I can remember. A Step Up x Smythsonrange would be pretty unbeatable!
YOU CAN'T DO BETTER THAN YOUR BEST.

Phanella Mayall Fine
HOW DO YOU DEFINE SUCCESS?
PHANELLA: Success for me is balance, happiness and support. If I can enjoy my work, manage to spend time with family and friends all whilst making a difference to other women's confidence and careers then I am successful.
ALICE: I agree with Phanella, success isn't clocking up hours in the office it's about holding work peacefully and meaningfully within my life. I am driven by being happy, feeling creatively and intellectually fulfilled and enjoying as many neck snuggles with my girls as humanely possible.
WITH THE HECTIC SCHEDULE THAT COMES WITH HAVING A FAMILY AND RUNNING YOUR OWN BUSINESS – HOW DO YOU MAKE TIME FOR YOURSELF AND WHAT DO YOU DO TO UNWIND?
PHANELLA: Time for ourselves is scarce – we spend most evenings on our laptops – but I am religious about fitting a couple of sessions of exercise into my week. For me, it's when I completely switch off and relax.
ALICE: Oh gosh, doesn't online shopping count?! Ha, only kidding. Going to bed early is my Me Time.
BEST PIECE OF ADVICE YOU HAVE EVER BEEN GIVEN?
PHANELLA: My Dad always used to say, "You can't do better than your best." I hold onto that when things haven't gone 100% to plan!
ALICE: Mmm, there isn't one pithy piece of advice that I keep close to my heart, rather I look at other women that I admire and try to learn from them – in whatever capacity that might be. My daughters help me stay in the present and in our crazy, digital world, I find that absolutely vital.
WHAT/WHO INSPIRES YOU?
PHANELLA: Alice inspires me. Working with a partner is brilliant – we feed off each others ideas, pick up each others slack when the other is struggling and build each other back up when we fail. Alice is authentic, strong-minded and loyal and I find working with her inspiring every day.
I LOOK AT OTHER WOMEN THAT I ADMIRE AND TRY TO LEARN FROM THEM – IN WHATEVER CAPACITY THAT MIGHT BE.

Alice Olins
ALICE: Well, I think I'll just say ditto to the above for Phanella. Yes it's gushy, but until you've experienced a meaningful career partnership, it's hard to understand its power. We are a team and we continually inspire and support each other; Step Up cannot survive with just one of us, and so much of our spirit and energy comes from our friendship, understanding and the respect that we hold for one another. Plus, Phanella is very organised in her thoughts, and working with her has made me a more intellectually streamlined version of my usually scatty, creative self.
LET'S TALK ABOUT FASHION… WHAT ARE YOUR FAVOURITE GO-TO PIECES FOR EVERYDAY DRESSING AND WHERE ARE THEY FROM?
PHANELLA: My coaching work can be pretty corporate, so I stick to Sandro dresses with Maje jacket. For Step Up, I can be more casual. I take the same jacket from Maje, add a knit and jewellery from J crew and a Zara dress or trousers. And I always wear lipstick and heels.
ALICE: Part of my will always be a fickle fashion girl – I happily latch onto passing trends as long as they fit into my overall style; at the moment that means crisp shirting (Tome), wide trousers (Zara), plenty of earrings (H&M, Topshop, vintage) and either the messiest trainers you've ever seen (Adidas) or eye-watering heels when there's an Uber involved.
IF MONEY WAS NO OBJECT, WHAT WOULD YOU BUY?
PHANELLA: Probably more of the same, plus a lot more Louboutin heels.
ALICE: Oh, don't get my started: basics from Celine, plenty of Gucci frivolity, Valentino gowns for a high life I will start to lead, Prada shoes and underwear from Stella McCartney (I could go on…….)
WHAT ITEMS ARE ON YOUR WISHLIST FOR THIS SEASON?
PHANELLA: For Summer, I'm coveting a mini saddle bag from Mansur Gavriel in rose; plenty of White Broderie in Ba&sh, & Other Stories & Claudie Pierlot; Louboutins always – this time in some summer colours and DoDo Bar Or shorts for the beach.
ALICE: A selection of Rixo dresses, some new jeans from Mother, a pair of Feiyue canvas trainers and a new handbag – style to be decided, although I have my eye on one from Marni…INSTAGRAM: @THESTEPUPCLUB
WEBSITE: STEP-UP-CLUB.NET